If you know me, you probably know the answer to this question:

What is my favorite place to get boudin?

TONY'S SEAFOOD (http://www.tonyseafood.com/)

I have been going to this seafood market on Plank Rd. in Baton Rouge as long as I can remember. I use to love looking at the live catfish. Whenever there is a party, I insist there should be a tray of their Cajun boudin balls on the table. If I am in the mood for some boiled crawfish, I will stop by for a few pounds of theirs... with boiled corn and potatoes.... and some boudin balls... plus some crawfish boudin... Oh man, how I LOVE Tony's!!!

Recently, we had a retirement party at work. Since I was helping plan it, naturally I suggested a tray of Tony's Boudin balls! MMM... 100 boudin balls for a party... Okay, now I am getting hungry! :) So we ordered them, and I went to pick them up. They came in a HUGE Tony's Seafood bag that I have never seen before. I LOVED the bag. It had the coolest cartoon pictures on it! Even a couple of a cartoon boudin balls!! I knew I had to keep the bag and create something out of it! But what?

When Will and I moved into our house back in April, I decided I wanted a Cajun/crawfish kitchen. I am slowly collecting items to decorate the kitchen with. So I thought that maybe I could create some sort of framed collage out of the pictures on the Tony's Seafood bag to hang in my kitchen! And that's how the idea for this week's project was born!

(Forgive me... some of these pictures aren't the best of quality. I sent my good camera to Canon to be fixed. Hopefully it will be back soon! I miss it!)


Here are some pictures of the bag. I love the cartoon pictures on the sides!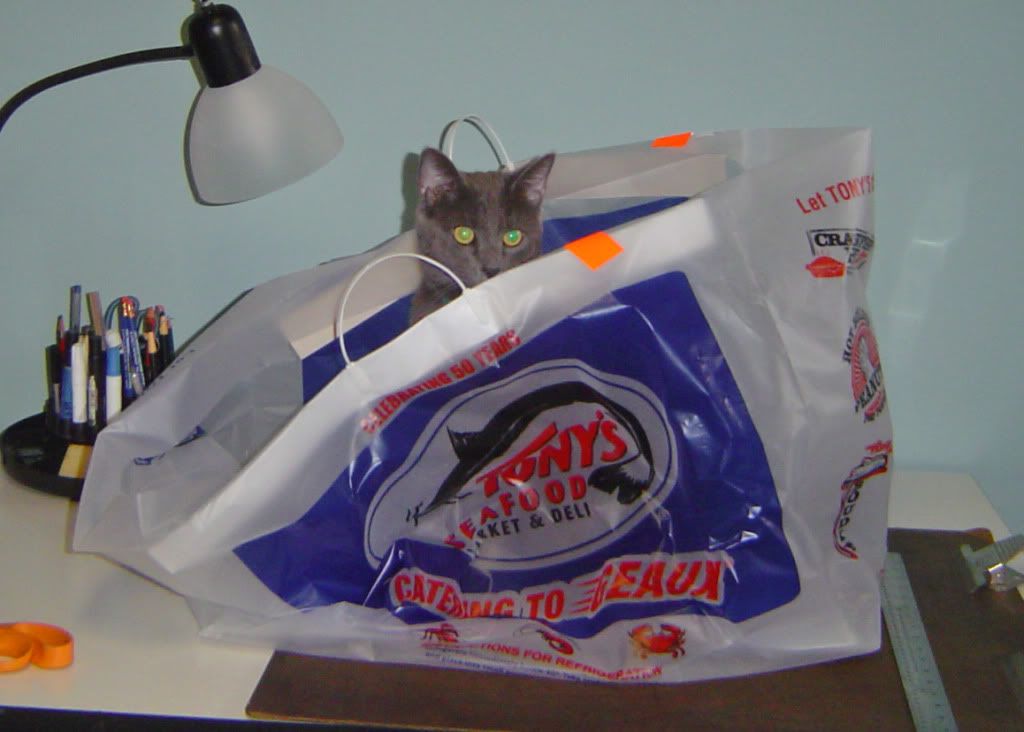 Crazy Kitti!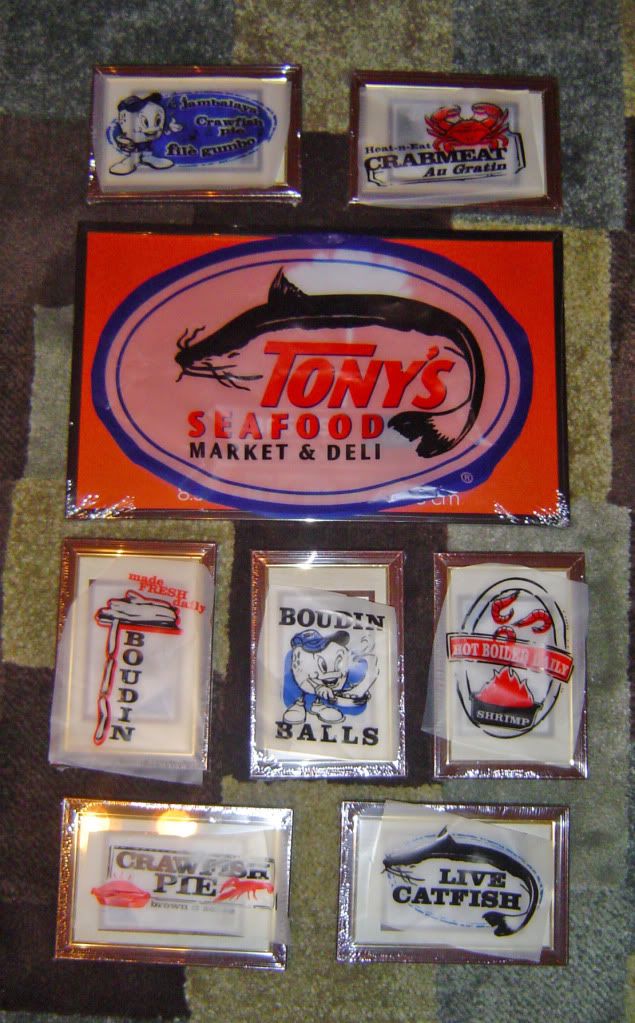 First I measured and cut out all the cartoons I liked on the bag and figured out what size frames I needed. I had to get one large one for the Tony's logo and 7 small ones for the smaller cartoons. (Thank you Dollar Tree for saving me lots of money!) I played around with them on the floor to figure out what arrangement I liked the best.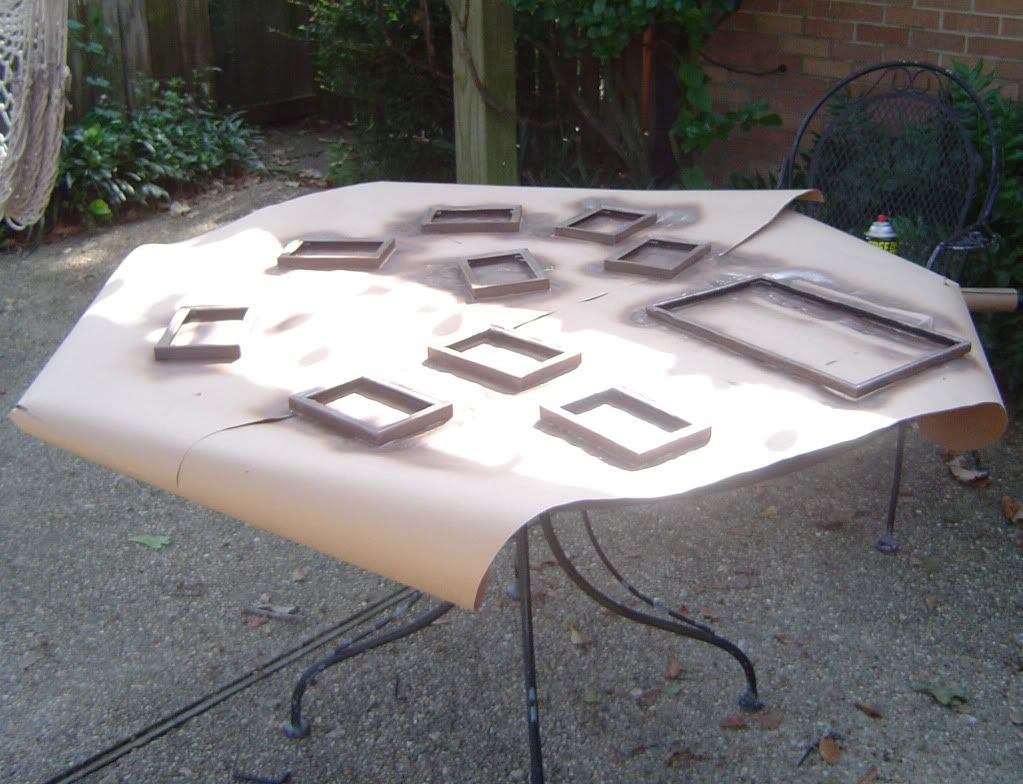 I took all the glass out of the frames and spray painted them the same color, a speckled, matte, brown color.

As the frames were drying, I trimmed my cartoons and made a background for them: a brown paper, like the kind of a paper bag, which I crushed up and re-flattened to give a nice texture. Why the brown paper bag look? Because it reminds me of the bags I get my crawfish in at Tony's! :)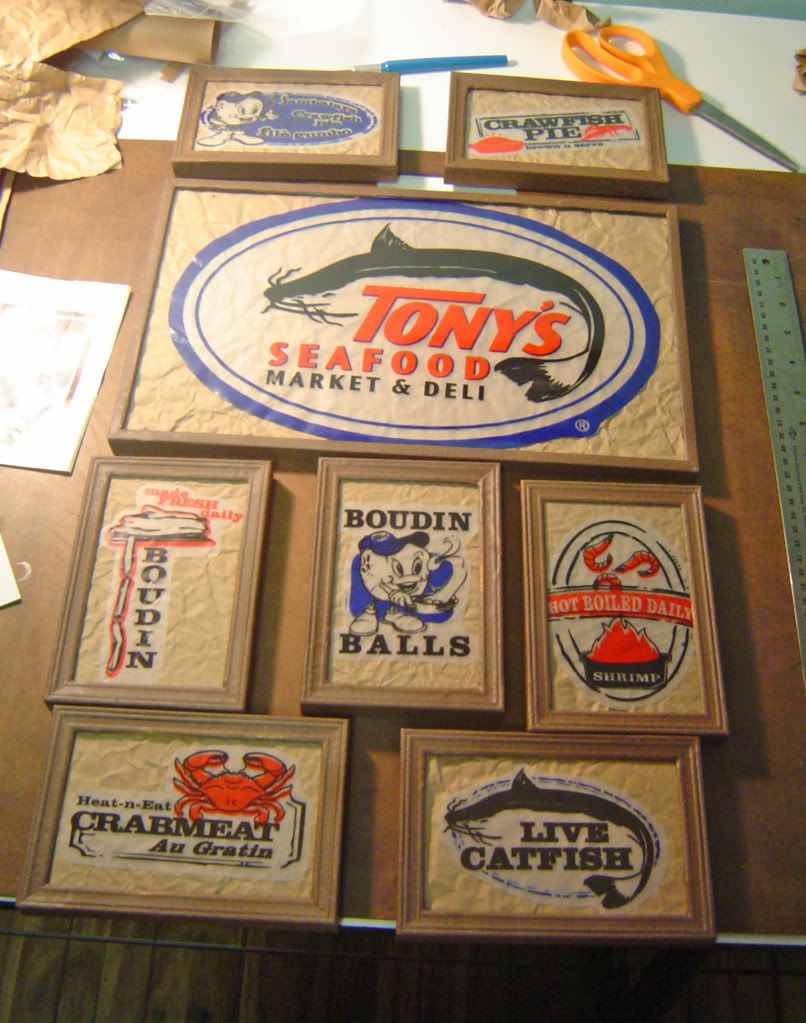 After they were dry, I assembled the frames with the cartoons and brown paper backgrounds.
Then I got to work putting them on the wall in our kitchen!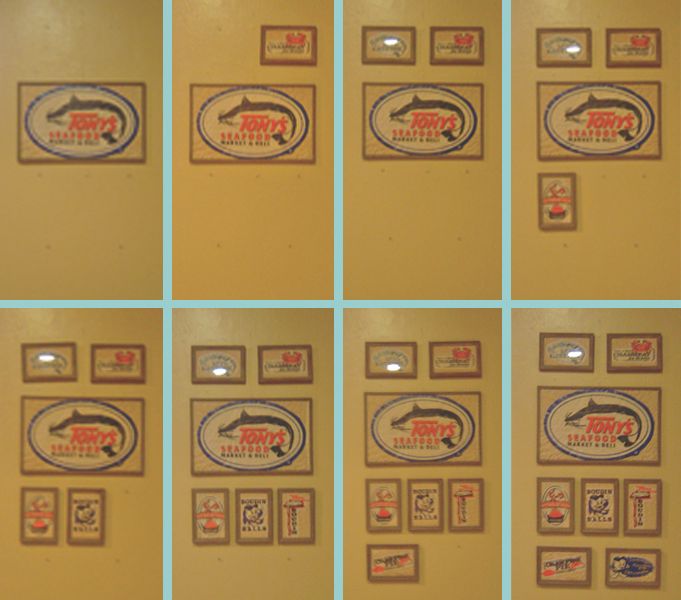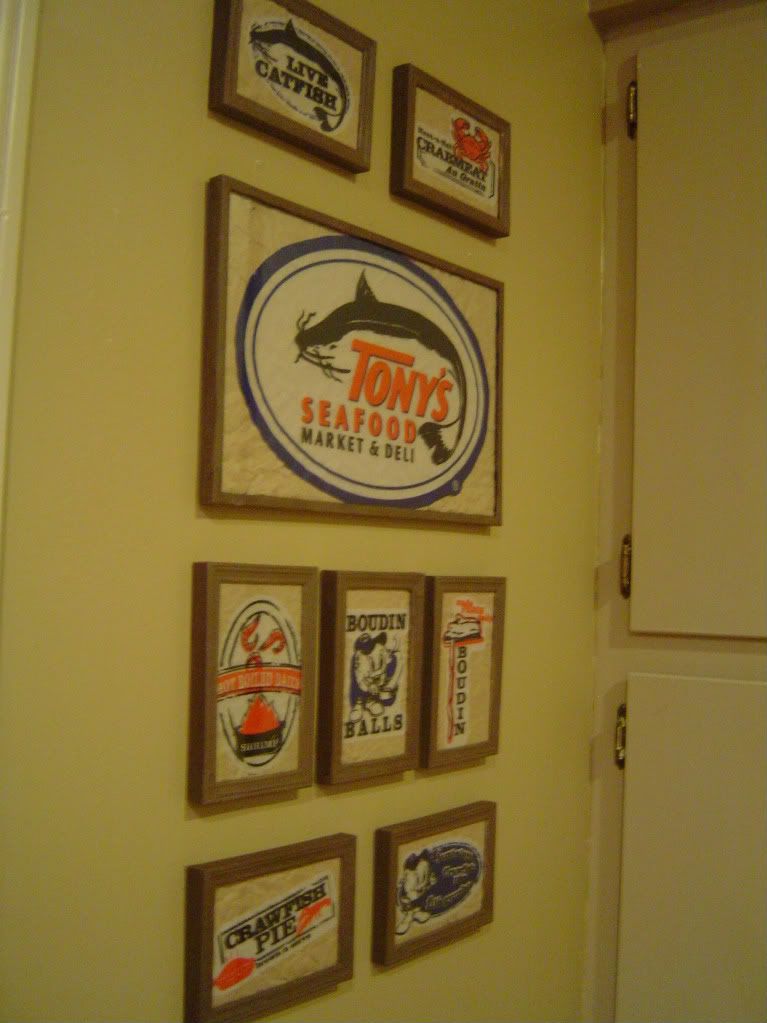 I like my new wall art and constant reminder of Tony's boudin balls! I may need to go get me some this week! :)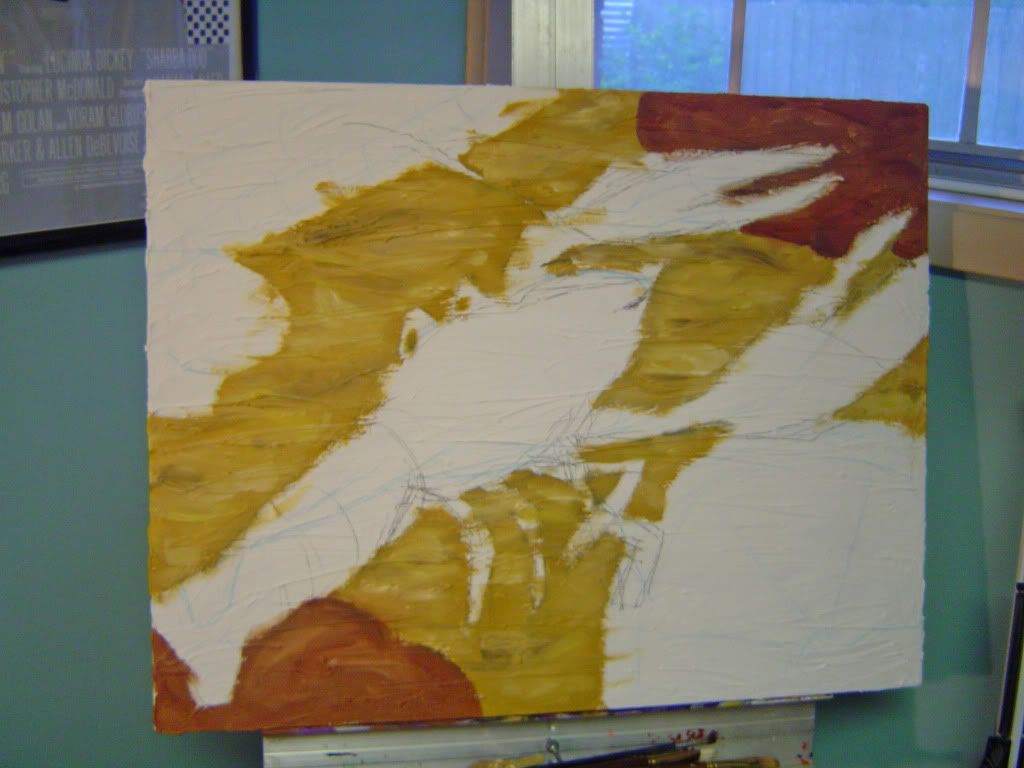 This will hopefully be another piece of art hanging in my Cajun/Crawfish kitchen soon. I started this back in June. While working on it my back started hurting, ( I have NO idea what I did to it) and I had to stop. I was SO busy over the summer that I didn't have time to get started on it again. So, this may be the project of the week sometime this month or next month!
Congratulations to my brother, Jamie (Jamie to me.... James to everyone else), and my sister-in-law, Katherine, on the purchase of their first home! I am SO excited for them! They needed the room to grow, especially since they have a little one on the way! Sometime next month I should be going over to paint pictures on my niece Maddie's walls! That should be a fun project!
Also keep a look out in the next few weeks for a GIVEAWAY! Thanks right! One lucky person will be receiving there own little piece of art by me! More details are to come!
Please leave comments! I love hearing from you! If you have any project ideas for me, please email them to
createsharerepeat@gmail.com
.
To keep up with what I am up to between blog postings, follow me on Twitter at
www.twitter.com/csrepeat
.
Everyone have a blessed week, and we will see what I come up with next! :)
-Emily