Well, this past week I worked on several things... Some I finished... some I didn't. I will start with a little bit about the ones I didn't finished yet.

I am working on some graphics for my friend Andrea's blog, Out of the Frying Pan... Into the Fiber. She had a vision for what she wanted for it, and I am attempting to bring it to life for her! I am really close to being done so I should post it next week!

I thought that my main project of the week was going to be my crawfish painting that I wanted to finish for my kitchen, but while I was painting at my brother/sister-in-law's new house, I was inspired by their living room. They painted it the perfect green color called Earthy Sage. SO pretty! I decided that I NEEDED this color for my dining room. My dining room was so white and BORING. So Sunday I bought a can of paint and went to work! And just as I thought, it goes perfectly in my dining room and with the flow of my house! BUT... I need a second coat on the walls, and of course I ran out of paint. :( Here's a little sneak peak. I will post the finished room when it is complete!


Will, Jack and Kitti helped a bit too! :)
I went to my second cake decorating class this week! We decorated our first cake! Last week I wrote a
blog
about testing out cake recipes. WELL! Last Wednesday night, I decided to make another cake from scratch using the
1-2-3-4 recipe
and all the tips I have gathered about baking cakes. I baked two beautiful 8 inch cakes, and with the leftover batter, I baked two cupcakes for Will and I to taste test how I did. Oh my oh my... It was SOOOOOO GOOD! Exactly what I wanted. Light and fluffy, but still firm enough to hold icing. Lovely taste. Delicious! I was dancing around my kitchen with excitement! Okay... so maybe baking cakes from scratch isn't as hard and/or amazing as I am making it sound, but since I had no idea how to make a cake from scratch, this is a great accomplishment to me! :)
I made a batch of icing for class the same night which didn't turn out that great... because I changed the recipe a little... learned my lesson. ;) So I saved that one and made another the next day before class. In class, we layered out cakes (I put pineapple filling in mine), and we iced them. Then we learned different techniques with the decorating tips. She let us use what we learned in class that night to decorate our cakes. I barely colored my icing when it was time to pack up! So I left class with an blank, white cake. I got home and finished decorating my cake. Afterward, Will and I cut into it.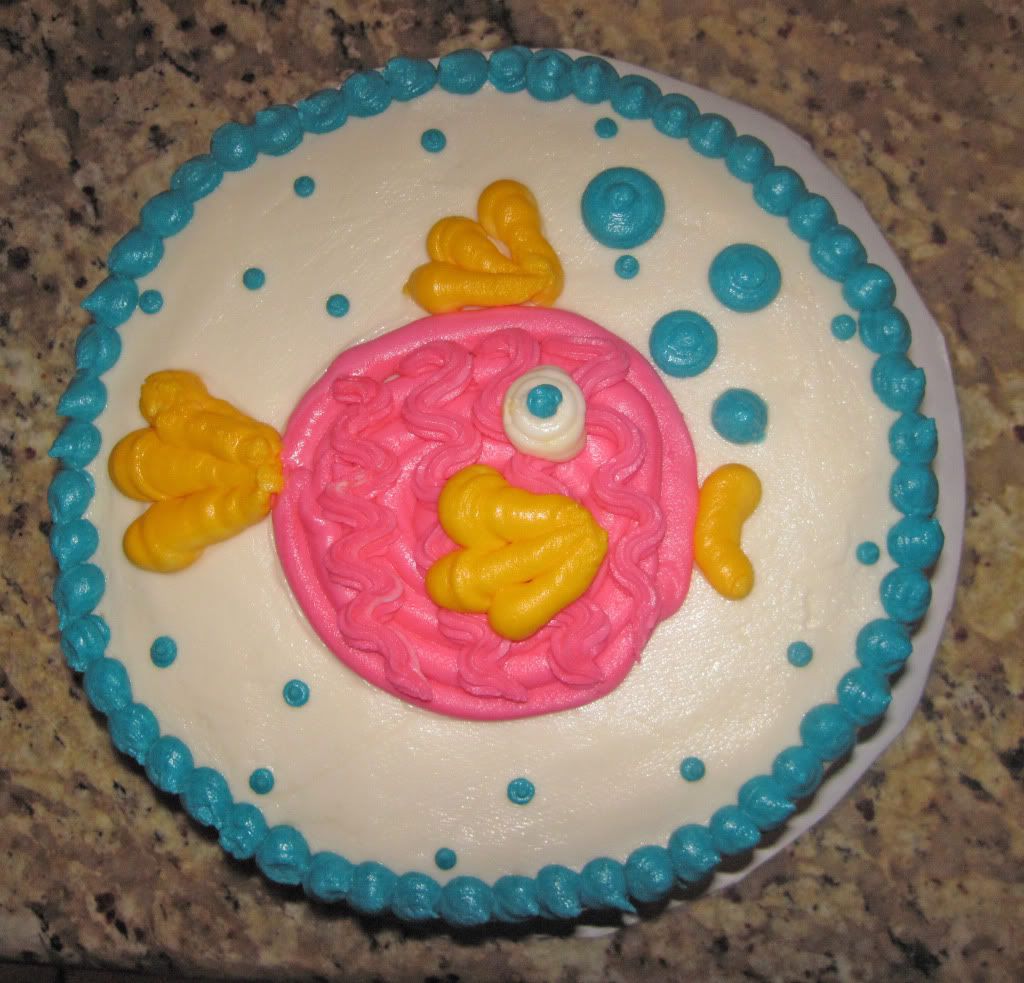 YUM! It was so good! I am so proud of the taste. The decorating came out good too, but as I told my friend Andrea, it is just so... round! I want to carve! I want to sculpt! I think I have been watching Ace of Cake too much. Gotta start small. Learn the basics. Then I can create cake masterpieces! :)
Okay. So. This may be really nerdy, but I made a cake baking and decorating binder! I took my book from class, tore out the pages, put them into plastic sheet coverings and put them in the binder. I didn't want the pages to get dirty with icing (which has already happened). I will also put recipes I use, tips I learned, etc in the binder. That way I will have all everything I need in one place!
Of course I had to design a quick cover for it too! ;)
Now I have a REALLY easy recipe for you! Have you ever heard Hungry Girl? She has cookbooks, a
website
and daily emails all devoted to low cal/low fat cooking! She tries to make fatty foods that we crave into something healthy by substituting some of the ingredients. I have all of her cookbooks!
By far, my FAVORITE recipe is this.
Devil's Food Cake mix + 1 can of pumpkin + Bake = complete YUMMINESS!
Yup. That's it. That is all there is to it. It makes 12 muffins. You can find the official recipe
here
. You will be so surprised how moist these are... with a hint of pumpkin... MMMM. Well since fall is right around the corner, I am finally starting to see cans of pumpkin in the store again. Will has been requesting that I make some soon, so while he was gone to Lafayette last weekend, I decided to surprise him with some when we got home. Remember that icing I told you I messed up earlier in the week? I decided I would use it on these muffins... That didn't make them very low cal, but oh well! I got all cute with them and put them in heart shaped muffin tins. It was a nice surprise for when he got home... not to mention DELICIOUS!
So those are my projects last week. Next week I should have some pictures of my new, green dining room and Andrea's graphics for her blog. Depending on how much time I have this weekend after finishing these two projects, I may work on my crawfish painting OR I may compete in a tshirt design contest. We will see!
I have a lot of neat projects coming up that I am really excited about! Here is a little sneak peak! :)
Crawfish Painting
Mural in my niece Maddie's room (maybe)
Baby Shower invite for Katherine's baby shower
Baby Shower surprises :X
Christmas Eve Party Invite
Christmas Party Favors
And a GIVEAWAY! More details coming at the beginning of October!
I am also happy to say I got my camera back! It's an underwater camera, but it also functions as a regular camera. I LOVE IT! I love how I can get it wet, hot or cold and it won't matter... well I say that... but the reason I haven't had it lately is because it got water in it and died. That may have been my fault though. It is still under warranty so I was able to send it back to Canon, and they sent me a brand new one! Yay!
That's it for this week's post. Everyone have a great week! Can't wait to share my upcoming projects with you!
-
Emily